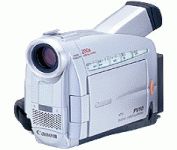 Steve Whelan who hails from Youghal in Co. Cork, Ireland released his album "The Last Walk" this year. He is a well know singer/songwriter in the area and as a test project I asked him if he would be interested in making a video. So here is a quick run down of what I done…
1st Shoot Info:

We settled on the song "Darling" so with no script or plan we headed to Youghal Beach to try out a few shots. Steve had his guitar I had my Cannon MV300 a very basic dv camera (pictured above) and with Shane Supple in car. We just played around and had a bit a fun canning about 20 minutes of footage. Most of the shots were filmed from an opened window at passenger seat in Shane's car while circling around Steve on the beach, by the way we had the song blasting on the car stereo so Steve could lip sync – we got some strange looks from strollers but didn't care.
2nd Shoot Info:

I gave Steve a shout one night and headed to Claycastle Recording Studio. I filmed him in a room with just a red bulb next to him. This red bulb caused a lot of video "noise" in the shot but it looked alright and the idea was to keep things simple so we did.
3rd Shoot Info:
The girl in the car at the start of the video and is my niece Terri McCarthy. I had my Canon handycam in the car one night and filmed about 1 minute of her driving the car.
4th Shoot Info:
Put Steve in front of a green screen and filmed him syncing to the song. We filmed it twice and took the best bits.
Other footage:
The carousel shot was old footage I had from a shoot for Perk Family Entertianment Centre. It just seemed to work so I left it in.
The footage of the beach I created in After Effects. I took the hi-res beach shot and virtually zoomed in on the photo then I set up the timeline so it recorded from zoomed in to zoomed out then I just reversed the timeline, this gives the effect of a plane flying over a beach… (nice trick!)
So armed with all the footage I edited the video using Adobe Premiere Pro and made the decision to go with black & white because
1. It suited the mood of the song.
2. The footage had mixed levels of exposure from the different shoots so going black & white pulled them together.
Ingredients:
The end result was a success, nothing ground breaking but I learned from the experience that you dont need lots of €€€ to shoot a music video.
1 Canon MV300
1 Guy with Guitar
1 Guy with car
1 Girl in car
1 Green Screen
1 room with red bulb
Software
Patience
Zero Budget
= 1 music video
Result:
The video has so far recieved over 5,511 views on YouTube and good feedback for Steve. Click here to watch it on YouTube
Thanks to Steve Whelan and I hope you enjoy the video…
Darling – Steve Whelan